The buzz during the 2019 Detroit Fall Beer Festival was the Michigan Brewers Guild's new Spring Beer Festival announcement.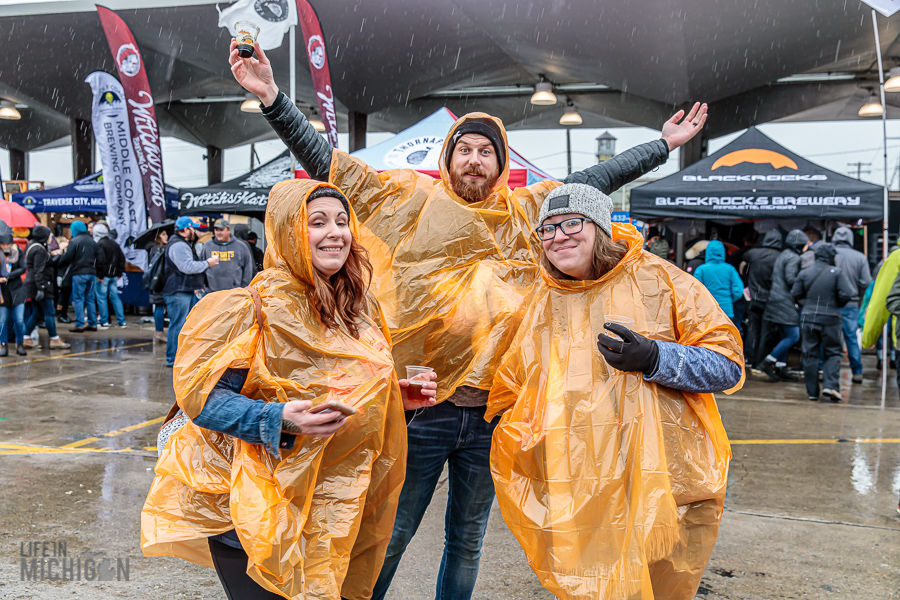 Detroit Fall Beer Festival
Before our first beer of the Detroit Fall Beer Festival, we heard whispers about the addition of another beer festival. We ate a doughnut or maybe two, talked to friends, drank some delicious beer, watched the rain start and beer enthusiasts put-on their rain gear, drank more delicious beer and speculated with others about this new festival. "Traverse City" someone said. Others speculated about dates and why. Since then, the Brewers Guild released the date, May 16, 2020! So mark your calendars kids! More beer fun.
Blake's Brewing and Doughnuts!
Our first stop was Blake's. I'm typically not a doughnut person so I'm not sure what prompted me to snag a doughnut. Between the "soft" cider and the doughnut's light dusting of sugar, I was buzzing. My brain still may be a bit addled from a healthy dose of goodness. Blakes? How did I know that name? A little digging on their website and I discovered Blakes has a Tasting Room which was voted "Best Bars in America" by Esquire. "Intrigued?" Yes, I am too. If you missed them at the Detroit Fall Beer Festival, they've got a 30 tap system rotating their beers and new ciders.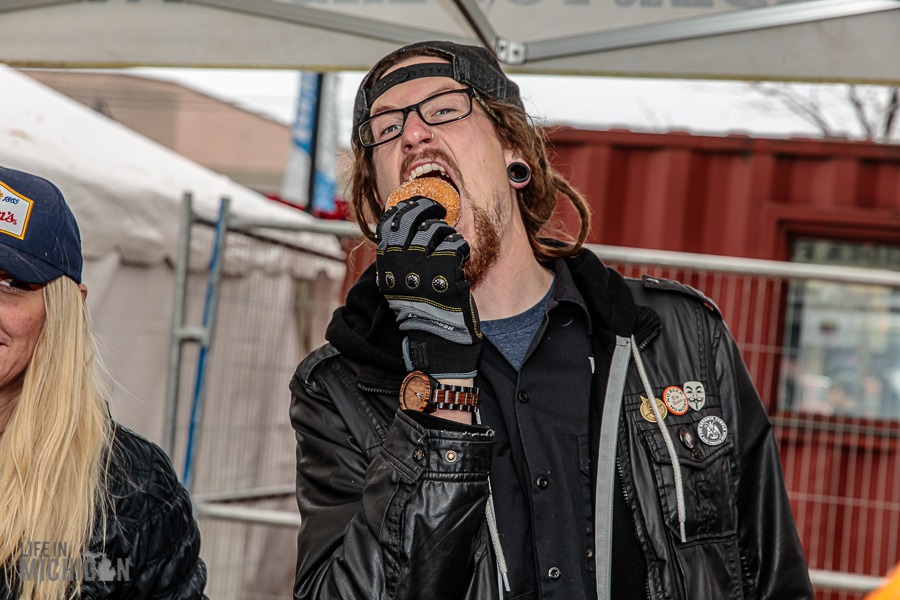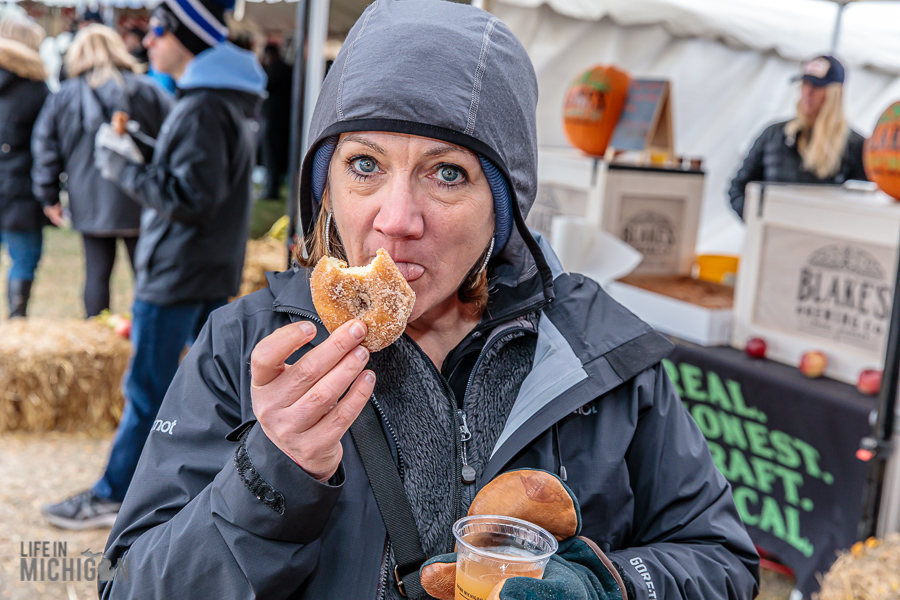 Horned Viking Helmets
Horned Viking helmets decorated with doughnuts were popular attire during this year's Detroit Fall Beer Festival. Or it might just be the same helmet being passed around. Chuck the history nerd was quick to point out that Viking helmets didn't actually have horns. I think he needs another beer.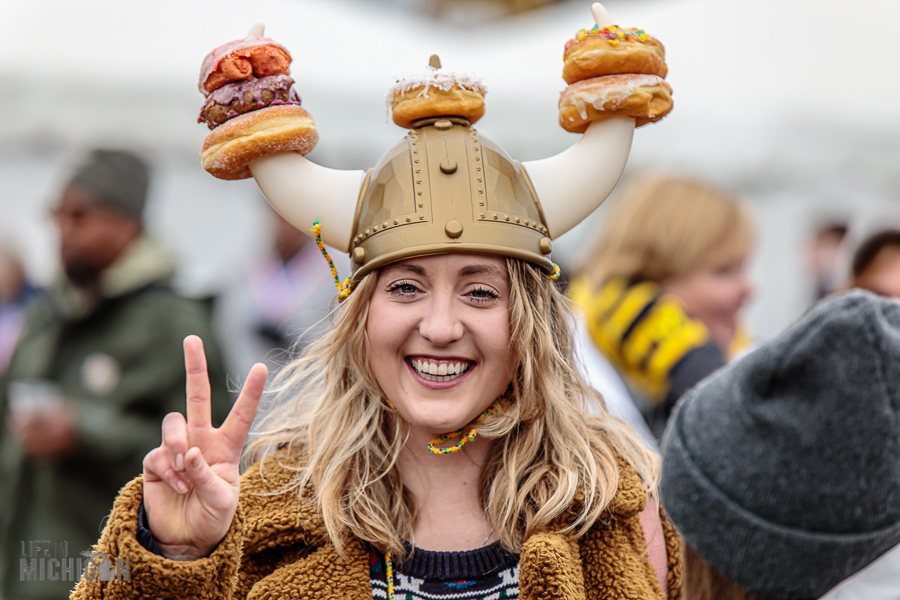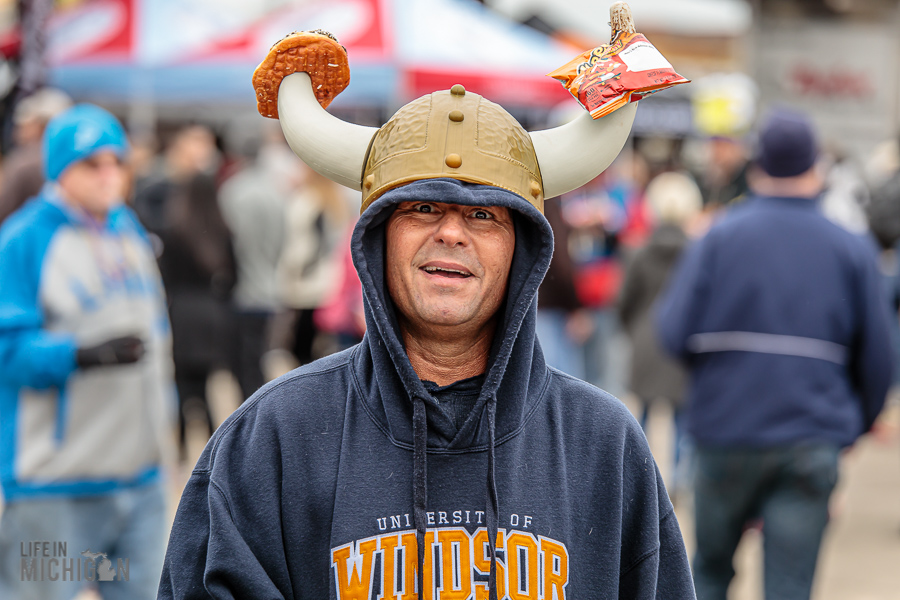 Pavlov's
A new brewery we've got to mention is Pavlov's Brewing Company out of Temperance, Michigan. I sampled their Peanut Butter Treat and Chuck got Pavlov's Octoberfest. Curious name, I thought. Turns out the story is different than you might think. It's about Joan's leader dog. I know, right! Now you are curious too.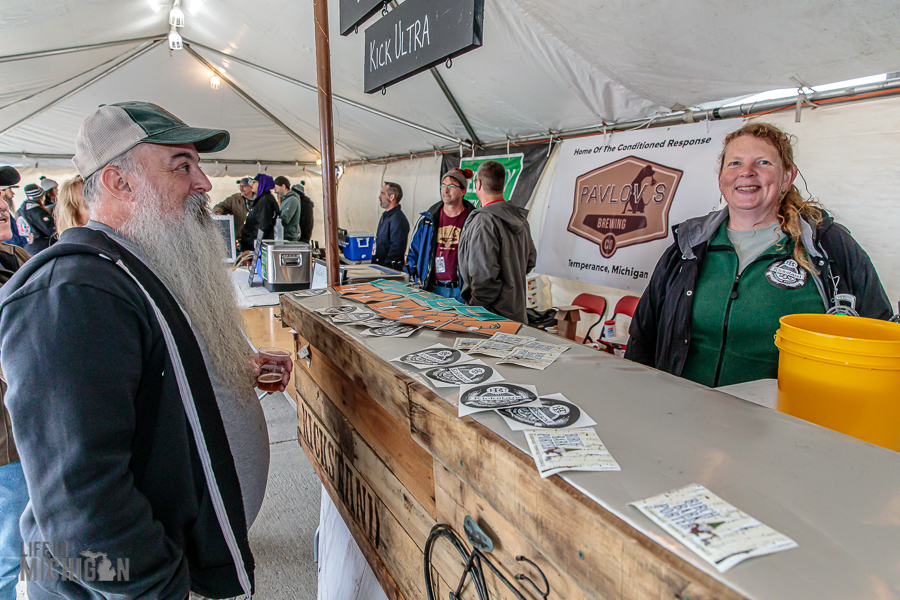 Black Fire Winery and Brewery
Be on the lookout for Tecumseh's Black Fire Winery and Brewery. They've got a sweet, tasting room. It is a popular venue for both public and private events. I didn't know they'd started brewing their own beer and was eager to get a taste. I wasn't disappointed with their New England IPA.
More Cowbell
Ah, Cowboy Doug. You are still missed. His cowbell has found a home at Kickstand Brewing and Perrin Brewing. Jay Green (Perrin) and Adam Beratta (Kickstand) have made a beer in his honor. It has limited availability and they are working on a description. I heard one possibility was Cowboy Fuel, which is perfect since Cowboy was constantly running on E.
Batch's Heavy Hitters
Batch Brewing Co had several "heavy" hitters at the Detroit Fall Beer Festival and we sampled two! The Anejo Imperial Marta Rita Especial and the Dickelsmasher – 9 mo. Bourbon Barrel- Aged Dicksmaher with cocoa nibs and vanilla. Whoa! Try saying that two times really fast after you've finished both samples. Bonus points if you doubled down with Dicksmasher in the Rye.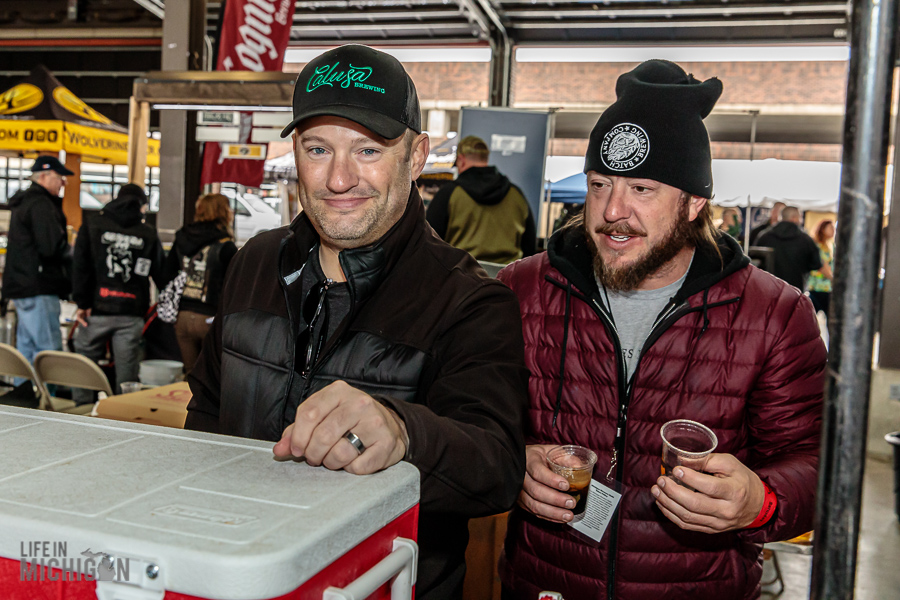 The other morning Chuck slid into the kitchen on stocking feet sharing exciting news, "Batch has a new game room." I've got sneaking suspicion, it might be on the agenda for this weekend. If you've been to the new game room, let us know what you think!
Rain Gear
I couldn't help but smile seeing beer enthusiasts deal with the rain. Let's hear three cheers for these hearty party people.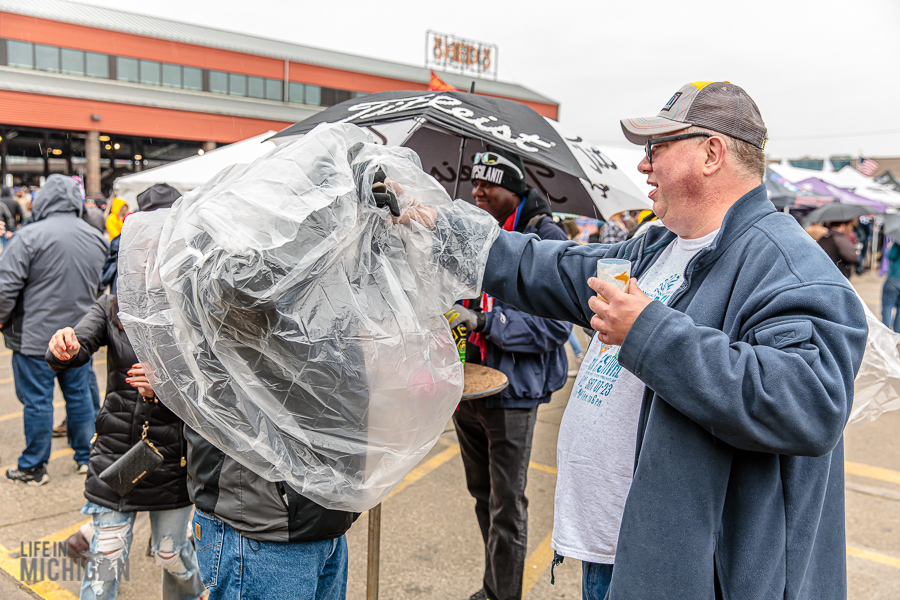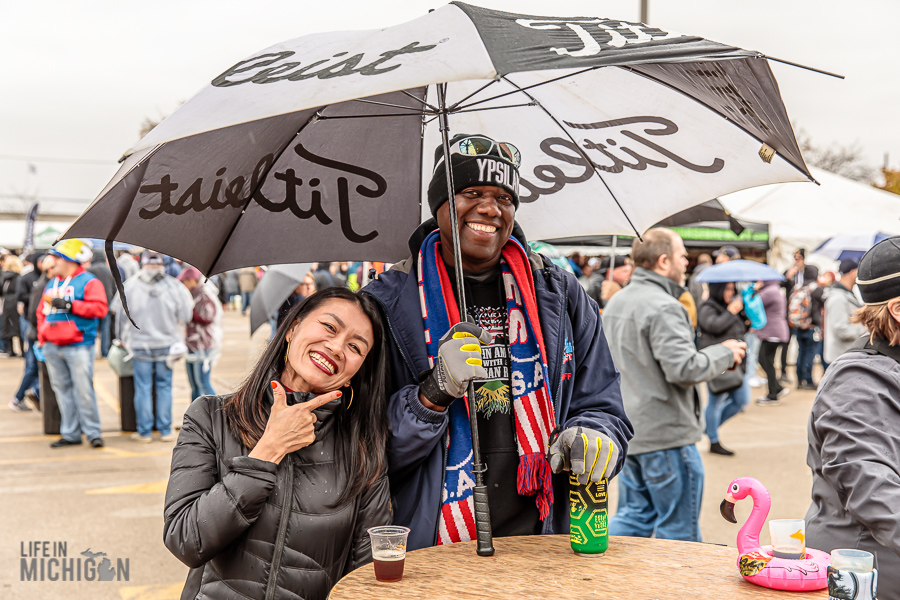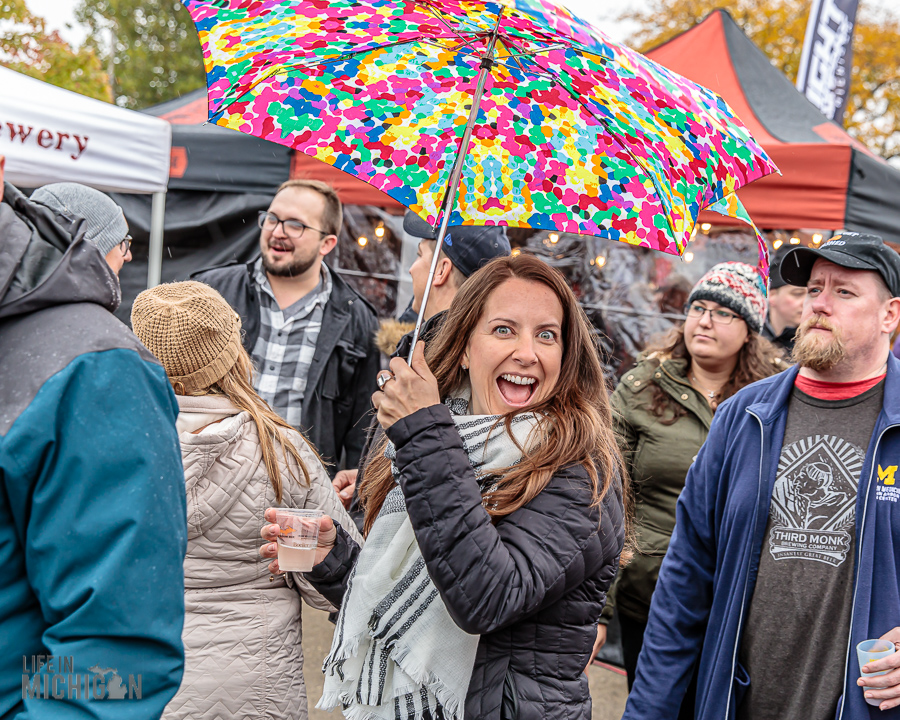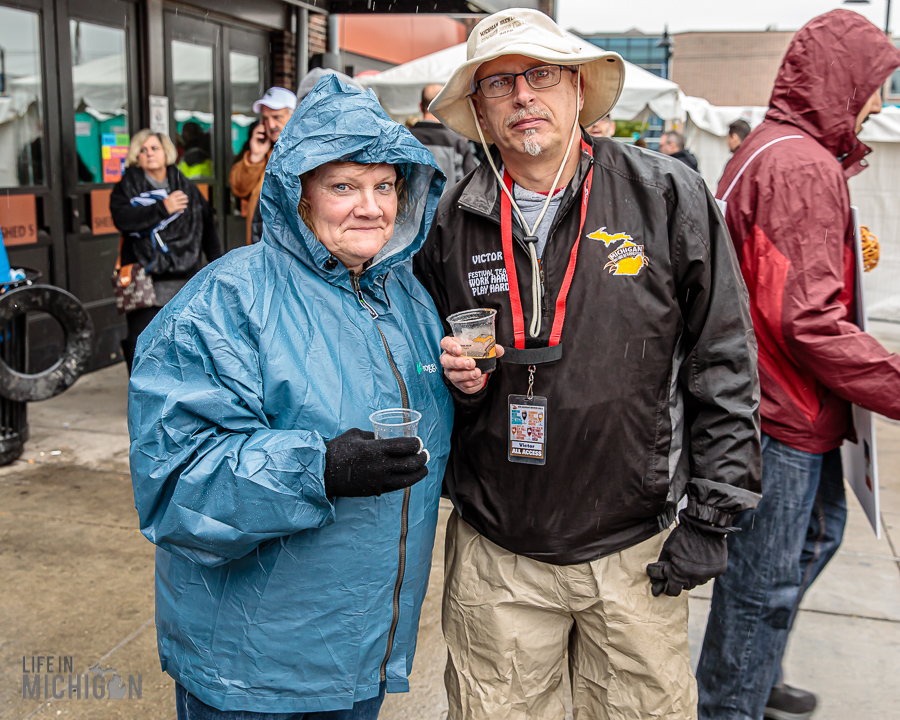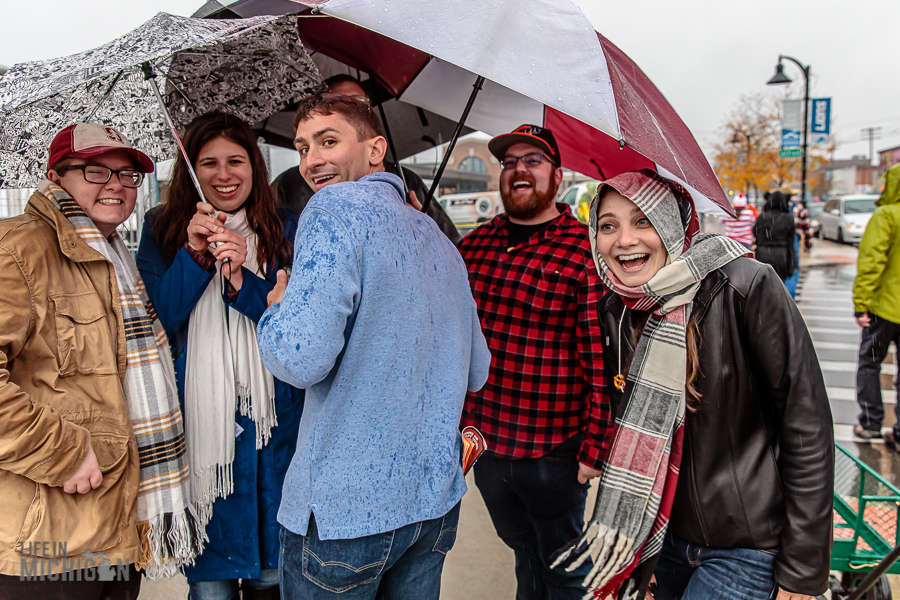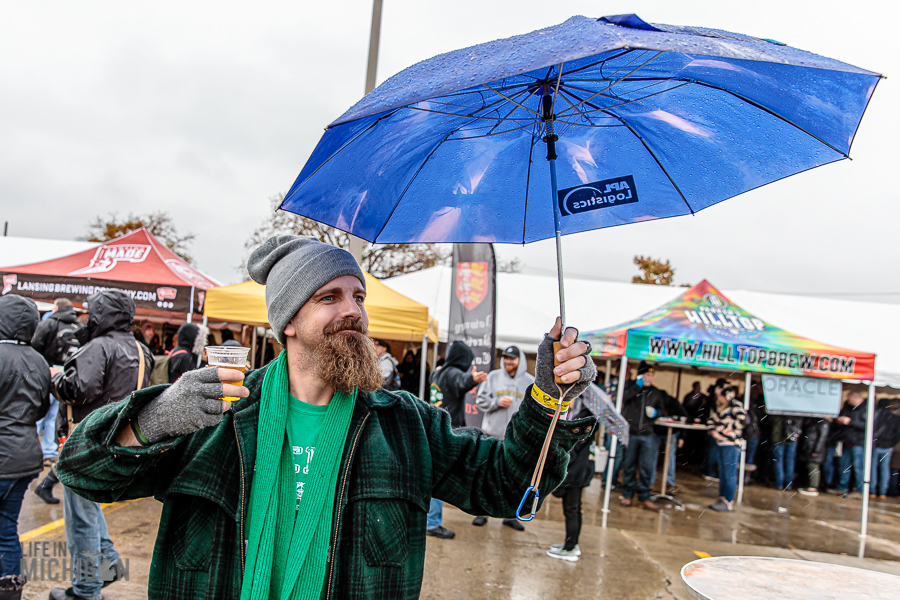 Burt Reynolds and Clint Eastwood
Seriously did you spot them during the Detroit Fall Beer Festival? They were both looking damn good!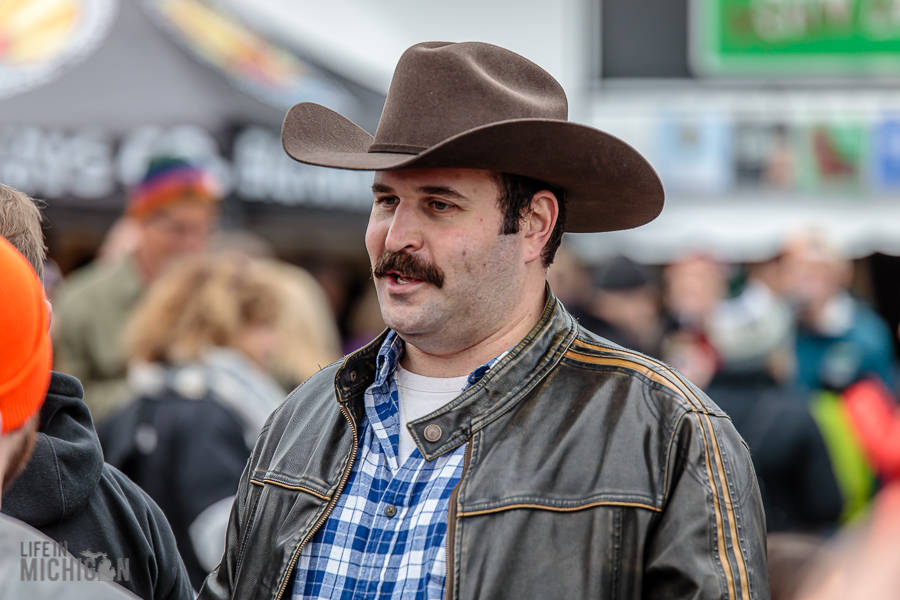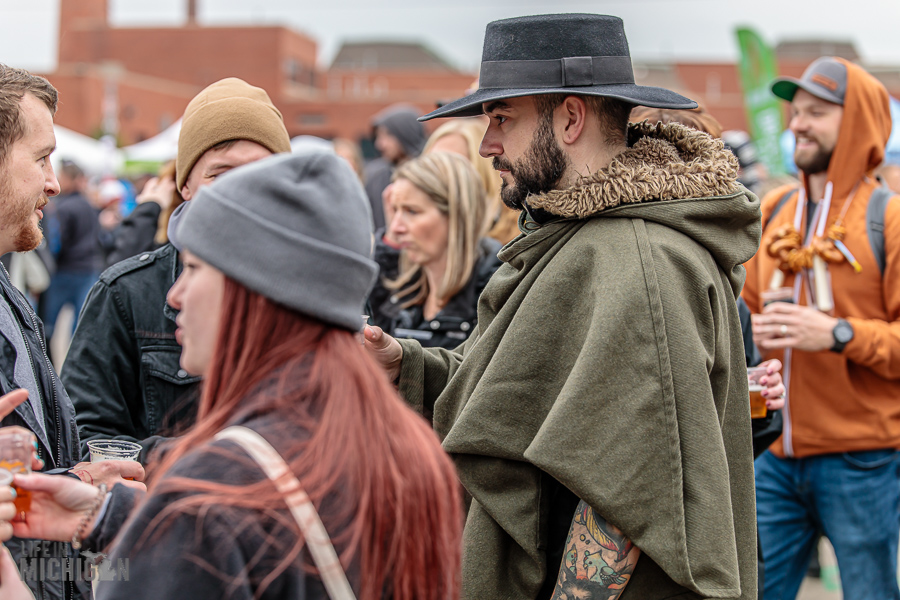 Best Costumes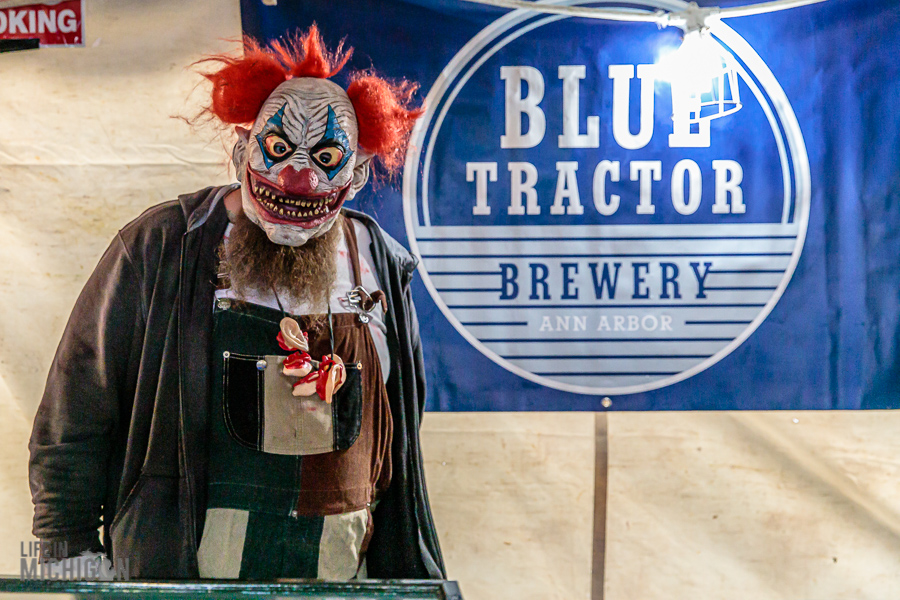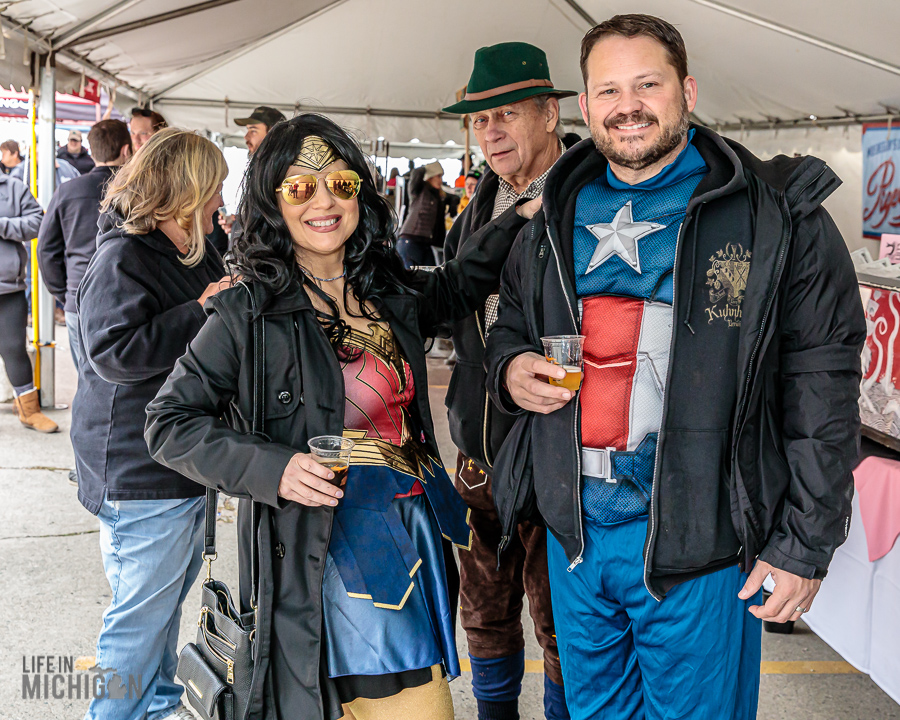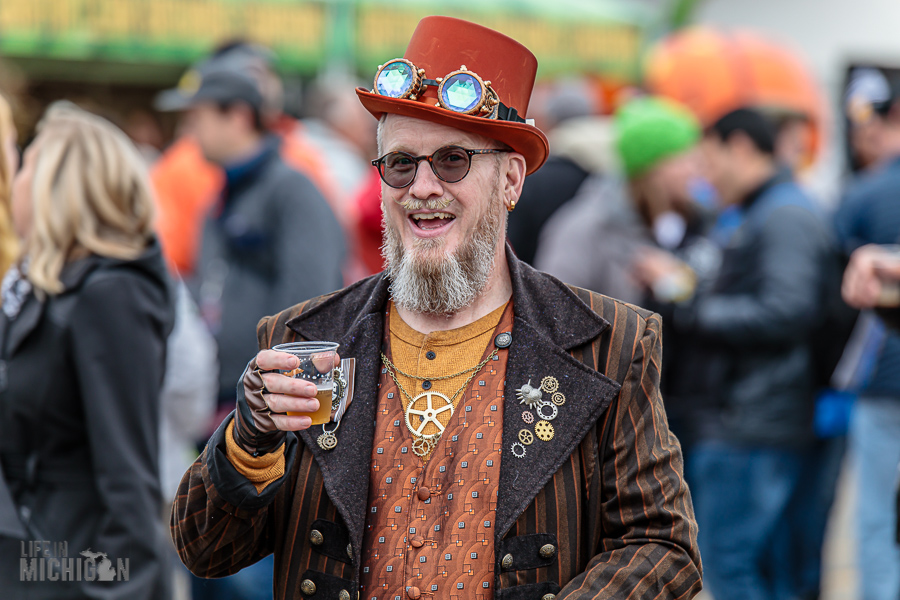 Beer Enthusiasts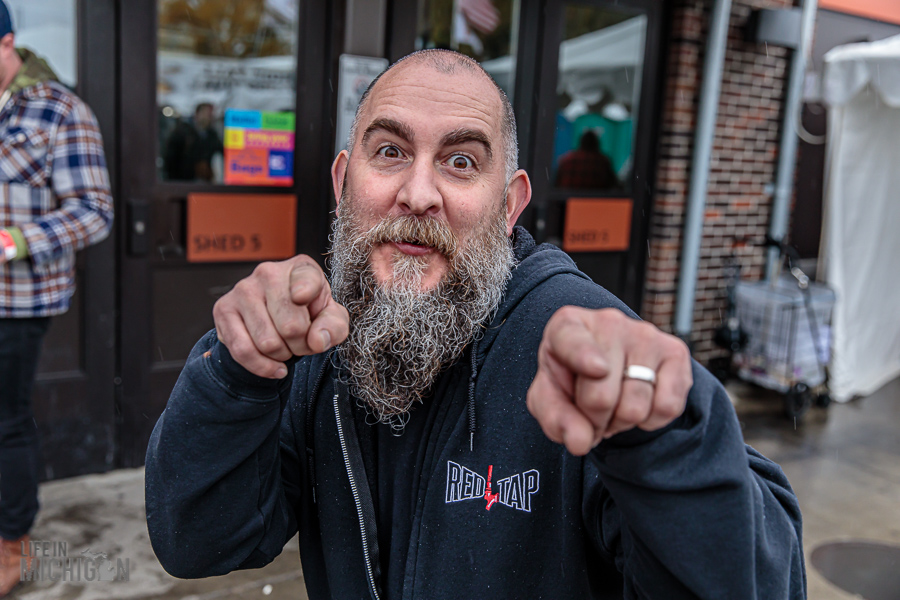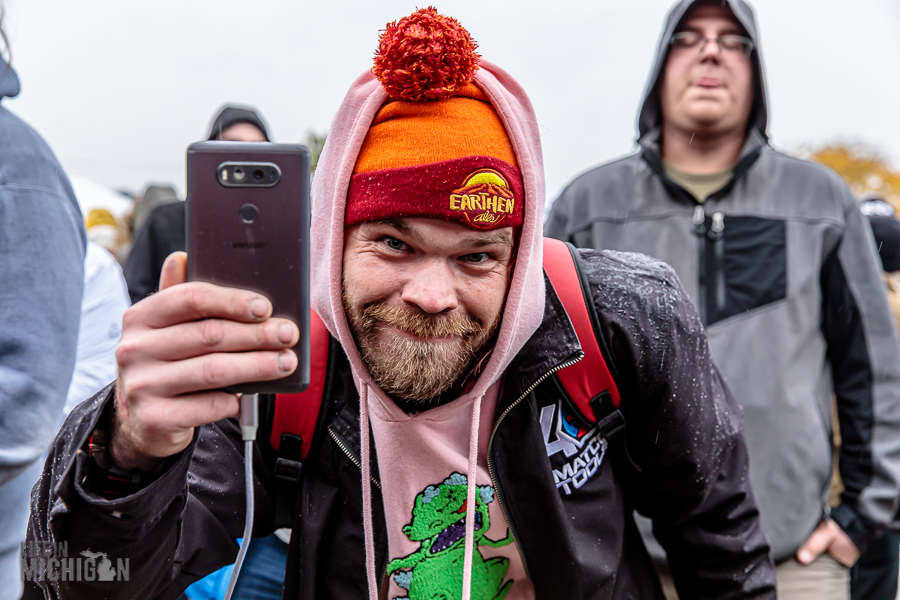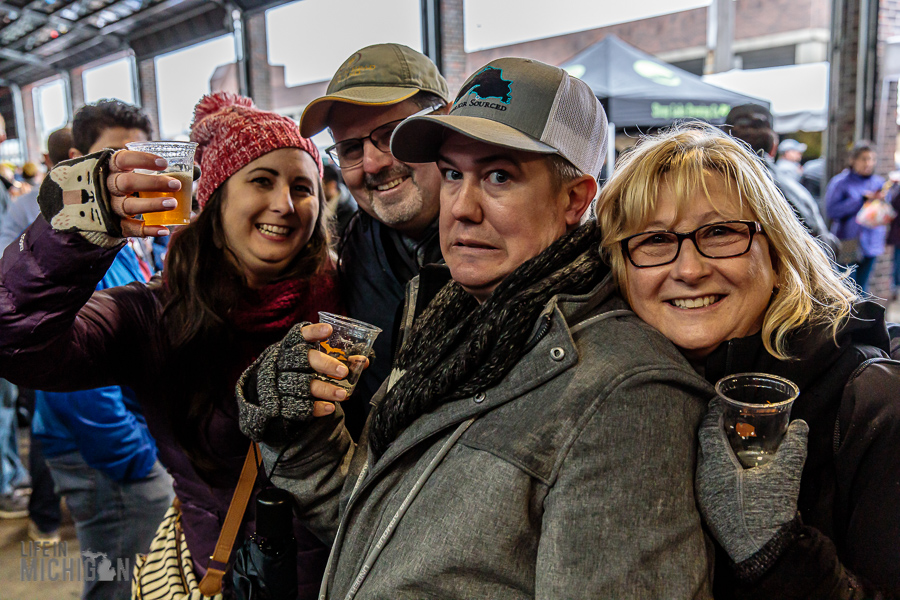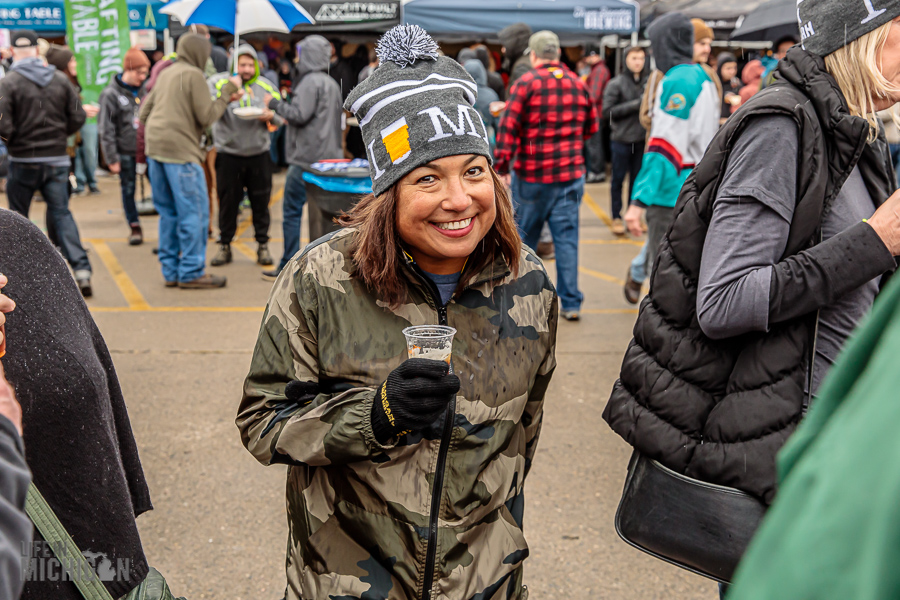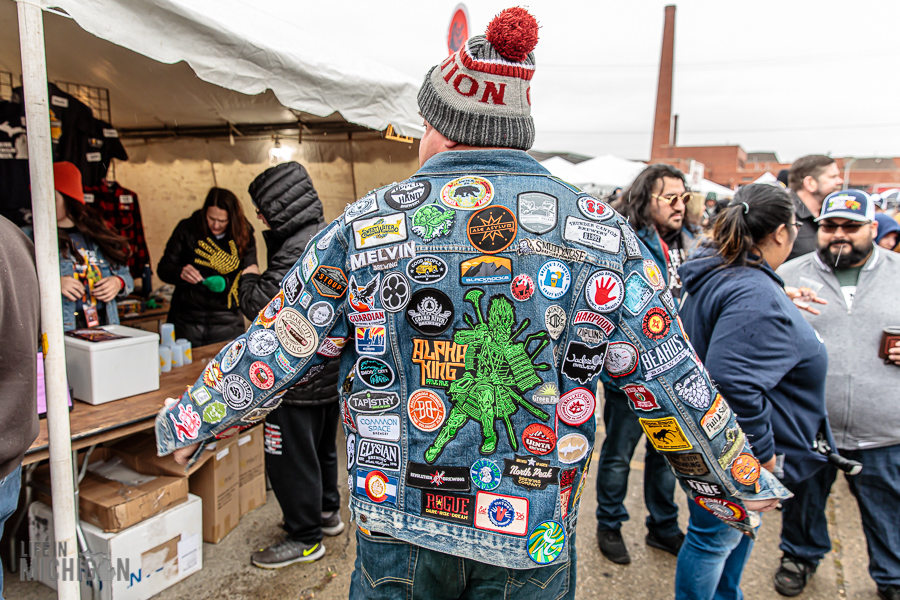 Cindi Lou and the Red Hot Royals
The rain was in waiting when Cindi Lou and the Red Hot Royals bust out with some bebopping rockabilly. The guitar twang, popping bass, and swinging drums allow Cindi Lou to add her sassy vocals to the mix. The hip shaking grooves and waltz beats entice a few people to get out and dance. Cindi Lou and the Red Hot Royals put a big Motown smile on everyone's faces. Their music tasted devilish and delightful with a Tecumseh Brewing Rocket IPA.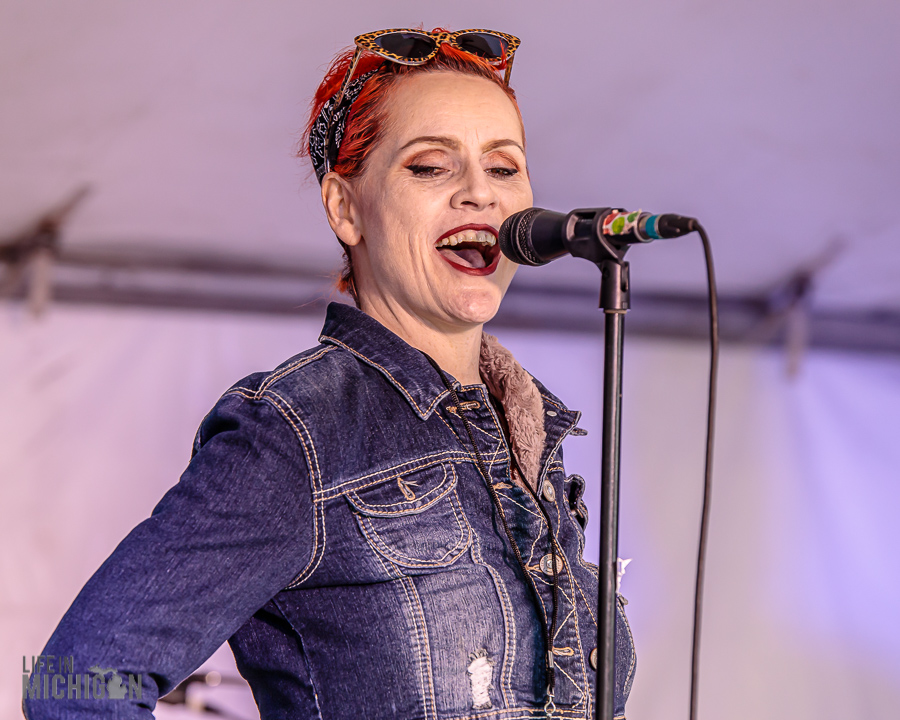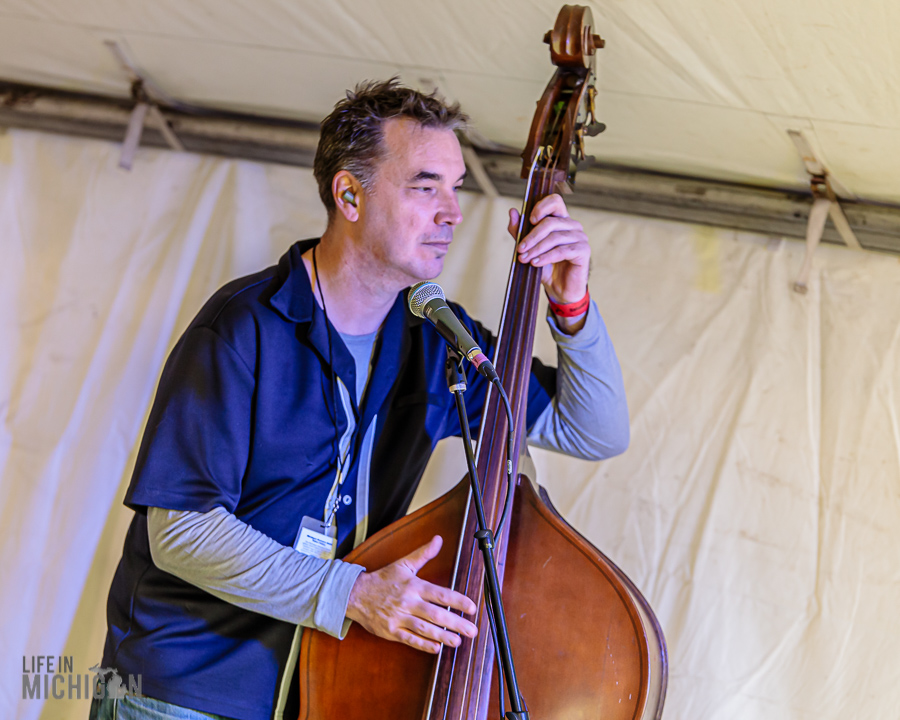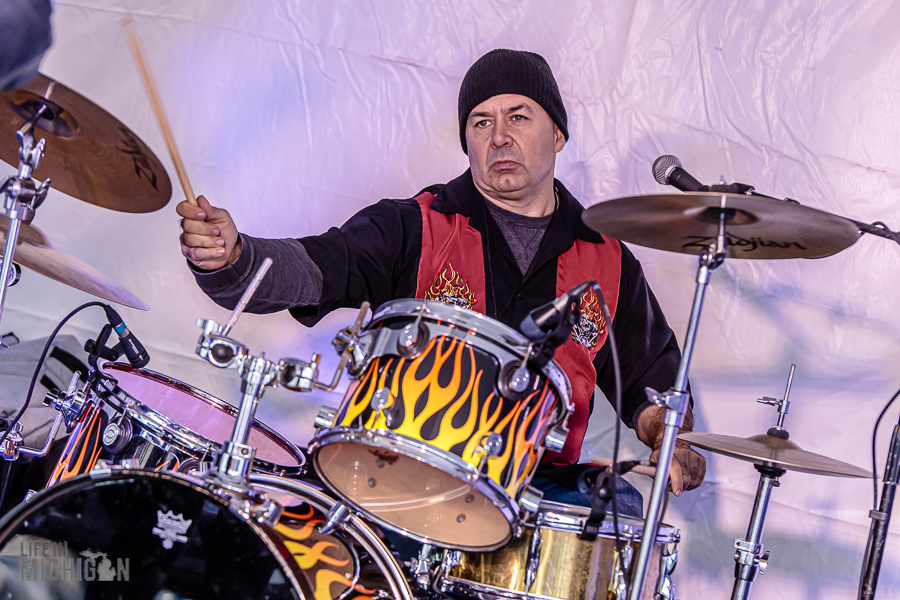 The Muggs
Nothing screams motor city muscle more than the fiery blue rock of The Muggs. First time I heard the Muggs was at the Detroit Fall Beer Festival in 2013. I've been hooked on their grimace invoking grooves ever since. I use the term grimace as the music of the Muggs is so damn tasty you can't help but clench your teeth in a big shark-toothed grin.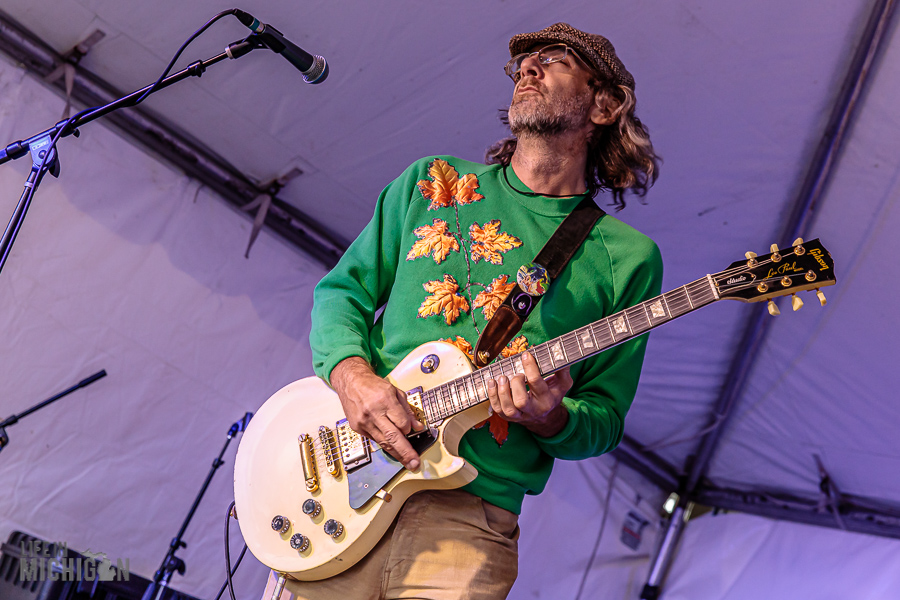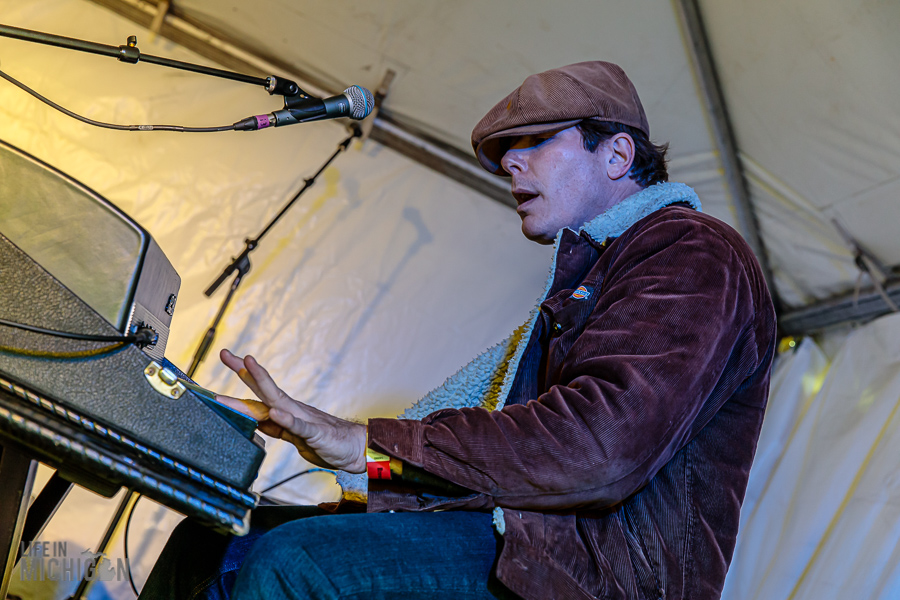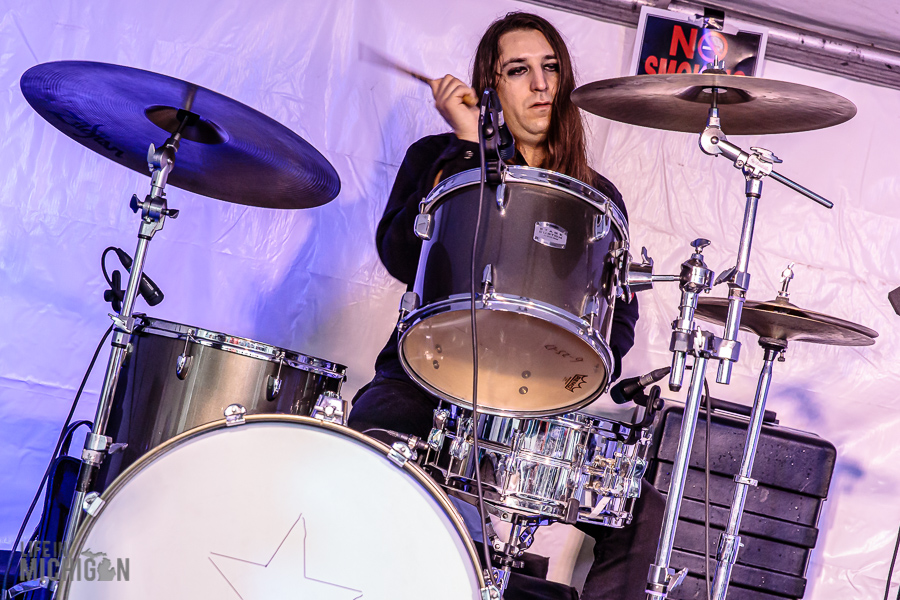 Covering drums is Zach Pliska rocking some crushing grooves while Tony DeNardo adds low-end muscle. Danny Methric smoking guitar riffs had the guitar players in the audience breaking out our air guitars to soar with him in sweet overdriven bliss. The Muggs live are a force to be reckoned with, rain be damned. It is best when pairing a beer with the Muggs to go big or go home. I choose a Batch Brewing Dicksmasher in the Rye to get funky with the heavy jams of the Muggs.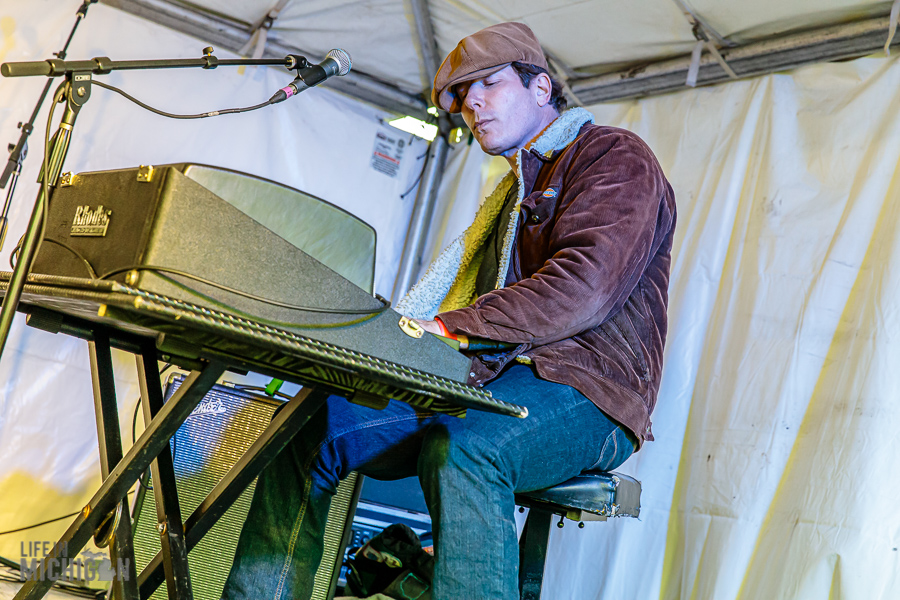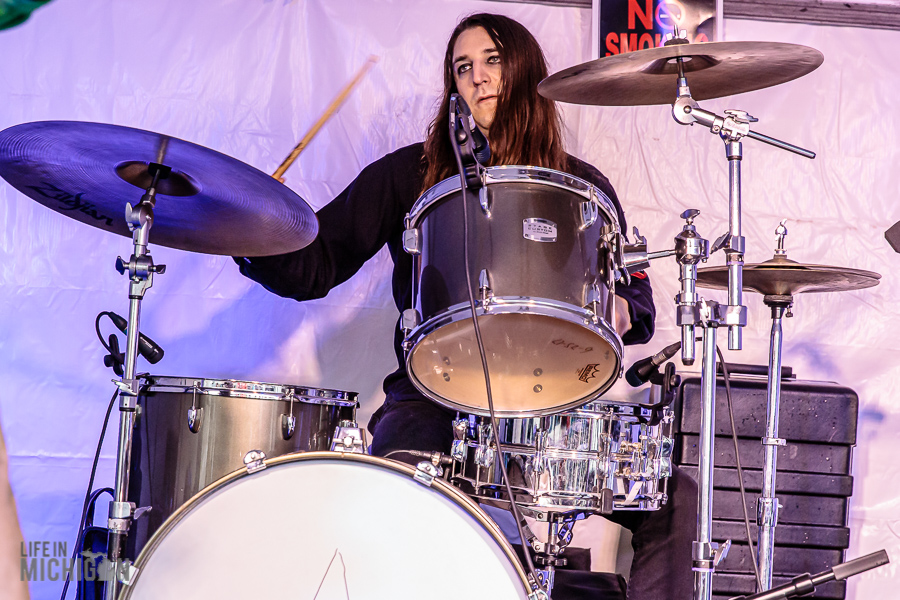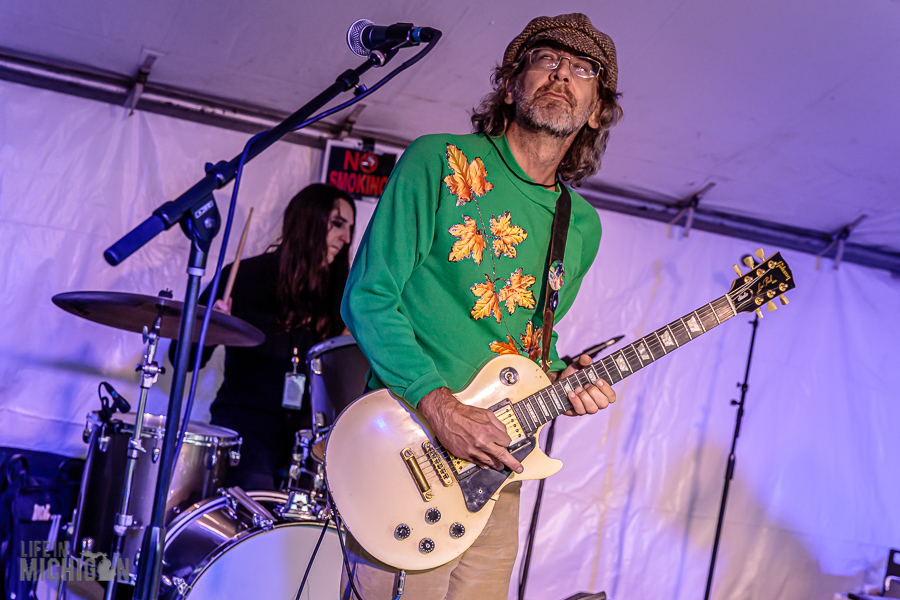 Pictures!
We love all of you and wish we could put everyone's picture in the post. We've got hundreds more in the gallery. Enjoy the images. Contact us regarding any use.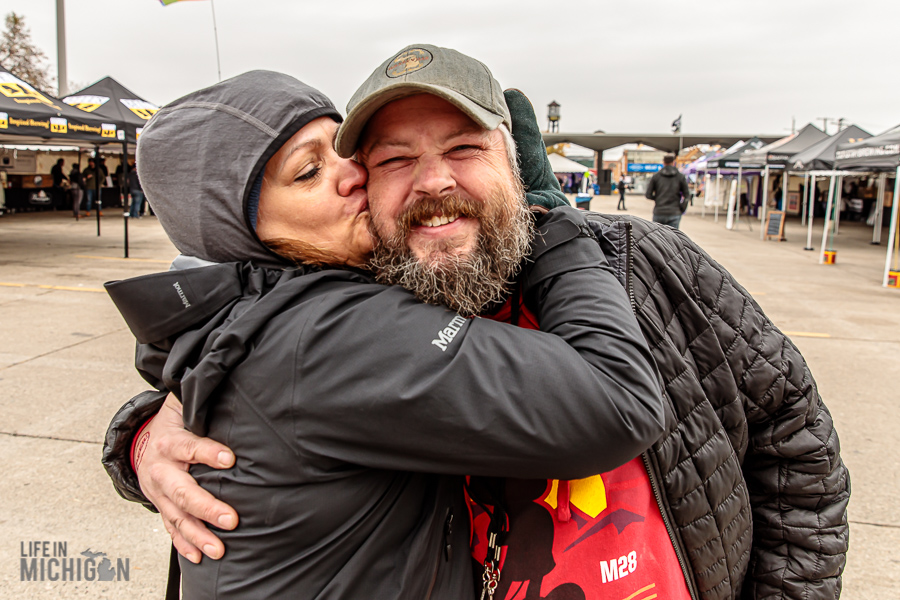 Become a Supporter!
Would you like your very own Life In Michigan t-shirt? Become a Patron! Patronage from people like you who enjoy our stories is what keeps Life in Michigan going strong. If you have the means, consider showing your support on our Patreon Page.
Share the News
If you enjoyed the story, then share it on your favorite social media venue or send it as a link to your friends and family. This is good for everyone!
Stay Connected
We'd really love it if you'd like our Facebook page. After you subscribe to our newsletter, Life In Michigan posts are delivered directly to your email box. You can also find us on Instagram. Cheers!